Best Business Ideas for college Students
The best business ideas are bornby the right combination of passion, skills, strategic thinking – and timing.
Last year, it might have looked like a great time to open a small food restuarant in a mall. But good thing you didn't, as you'd have been closed for most of 2020 and in 2022 as well things are not as they should normally have been.
The dynamics of the game is changing rapidly as businesses move online. In fact, social distancing and COVID-19 accelerated the growth of online shopping by 4-6 years.
That's why many business ideas in this article are low-cost, COVID-proof online businesses that you can start from home.
In this guide, we'll cover 35 business ideas to help you start think about your next entrepreneurial venture. Whether you want to start a part-time side business or full-time operation, this guide is for you.
Here is a list of the 35 best small business ideas to start in 2022.
Start a Profitable Blog.
When you start an online business, you're most likely selling one of three things:
Your time (coaching or consulting).
Your own products (ecommerce or SaaS).
Someone else's products (affiliate marketing or ads).
With a blog, you can sell all of these from one website and make the most money of any online business idea out there.
For example, when I first started my blog in 2020, I sold SEO consulting services. Once I got more traffic, I started adding a few digital resources and sold them to my contacnt list.
So how do you get started?
First, you need to reject common blogging advice and learn how to blog like a business from day one.
A lot of advice from successful bloggers (who all started 5-10 years ago ) is to "write about your passions" so that you can make a decent side income within a few years. Most blogging advice from bloggers like me is outdated and you clearly can make life-changing money in months, not years.
You just need to scale and treat it like a business. All blogging takes is to have bit of desire to learn and make money online.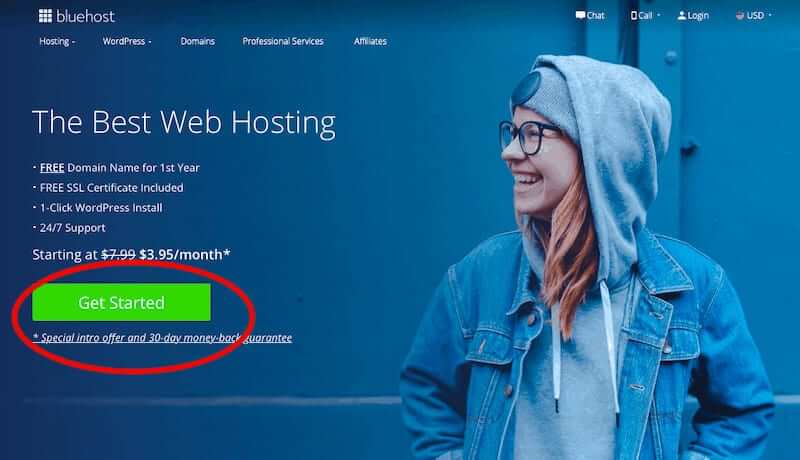 Blogging is the one of the low-risk, high-reward business idea, and my number one pick for 2022.
With a low barrier-to-entry and high profits, it's a great idea, even while working full-time. Launch Your Blog with hosting companies like Bluehost,Cloudways. The core steps in blogging is
purchasing or registering a domain name .
hosting your website on reliable hosting company servers.
Creating a website on wordpress
Going with wordpress like CMS (please note that you don't need to be a coder or software developer to create a website. WordPress and wix like cms are helping millions of people to launch their first website.
Please note that all the above activity is to take your expertise or knowledge to the world by internet using search engines like google, bing. To know how to start a blog please click here .
Online Courses and Coaching
It is now easier to share your knowledge or expertise by online course platforms. If you are a subject matter expert or passionate about something, then you can convert it into a substantial income.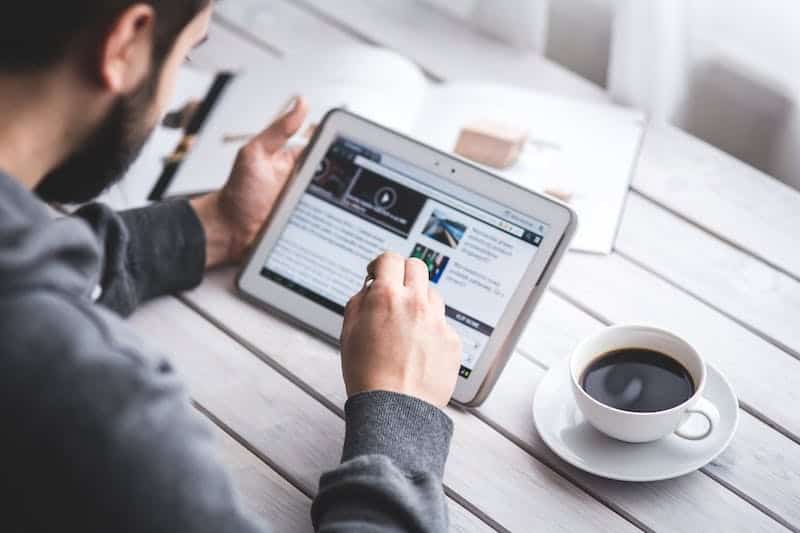 Offer online coaching classes to students, build a community to help while building your online coaching business. You can set up a Facebook page or even a podcast where you can reach out to people looking for online coaching classes.
There are also several online platforms, including Udemy ,Whitehat Jnr,Byjus to help you get started quickly. You can register on these platforms and start coaching right away.
Start an Ecommerce Business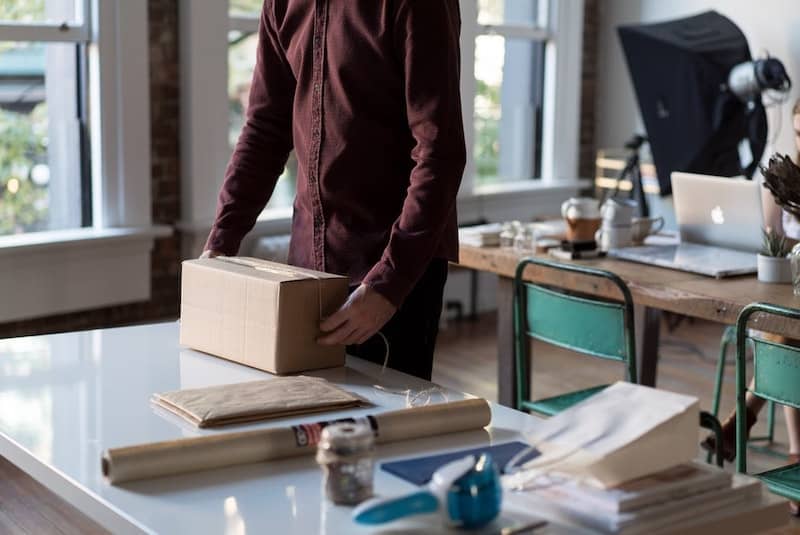 With COVID growing ecommerce 4-6 years, retailers are moving online faster than ever before. With ecommerce, there are multiple routes you can go – Amazon FBA, dropshipping, or full-fledged making your own products and selling them on your own website. Dropshipping is a good option for beginners since you don't have to fulfill orders or ship them yourself.
Dropshipping is a process where online retailers post products from wholesalers, but the dropshipping suppliers manage all of the shipping. The retailer just has to generate online orders and send the shipping information to the wholesaler.
Here's a understanding of how dropshipping works: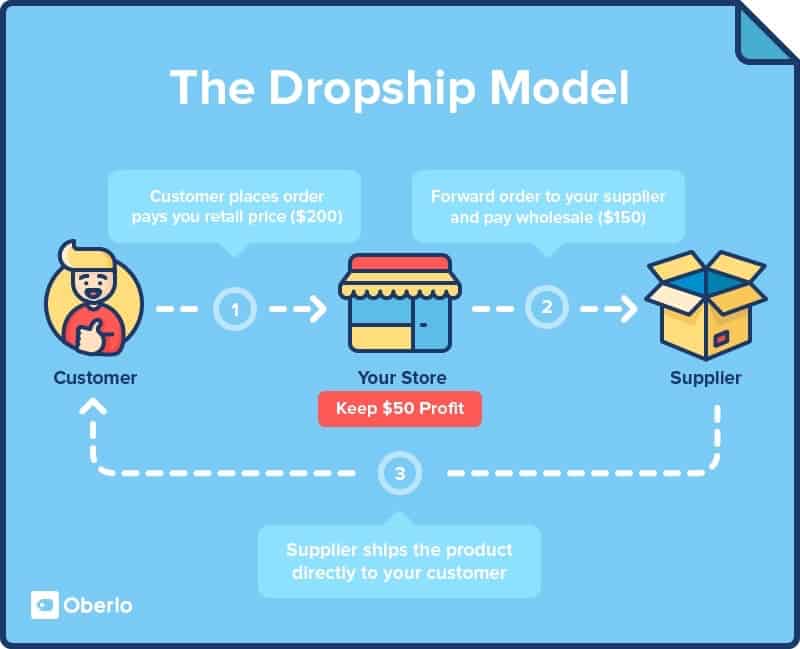 For dropshipping business ideas, you first need to do some market research and identify products in high demand. You can also check top-selling products on sites like Amazon and Google Shopping to get ideas.
There are also several online platforms, including Udemy ,Whitehat Jnr,Byju to help you get started quickly. You can register on these platforms and start coaching right away.
If you want to build a website to do this, there are a few routes you can take. If you're starting from scratch, I recommend you get started by creating a Wix website.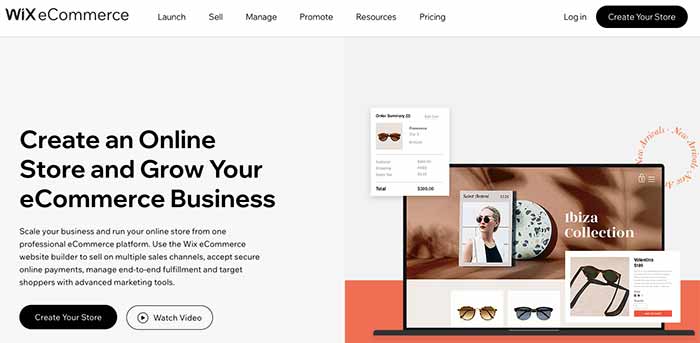 They are the easiest-to-use ecommerce platform and come with all the marketing tools you need.
Selling products online is a simple process:
Choose your ecommerce platform.
Upload or add product information to your store.
Choose a theme and design your web pages.
Set up settings for taxes and shipping.
Test your shopping cart functionality and do final QA checks.
Launch your ecommerce site.
While it's easy to start an ecommerce site, the challenge becomes how to get website traffic.Overall, you can start a Wix ecommerce site today for just $13-22/month.
Sell Custom Printed Products
Another option for ecommerce is to create a brand and sell custom products like T-shirts, mugs, stickers, bags, and more.
There are a lot of websites that take care of the logistics for you.
For example, here's how the process goes with a company like Printify:
Pick one of over 100 products you'd like to sell.
Use a mockup generator to apply designs to your products based on images and graphics.
Order samples to make sure your products have the quality and feel that you're looking for.
Publish your products and sync them automatically with an ecommerce platform like Shopify.
When you make a sale, your product is put into production and you don't have to manage any manufacturing or shipping.
To succeed with a custom printed product business, you need excellent designs, a strong brand, and good marketing skills to generate sales.
Graphic Design
Companies are always on a lookout for graphic designers to help them with their brand image.
From designing marketing collateral like banners, posters, and logos to designing landing pages and websites, the opportunities are vast.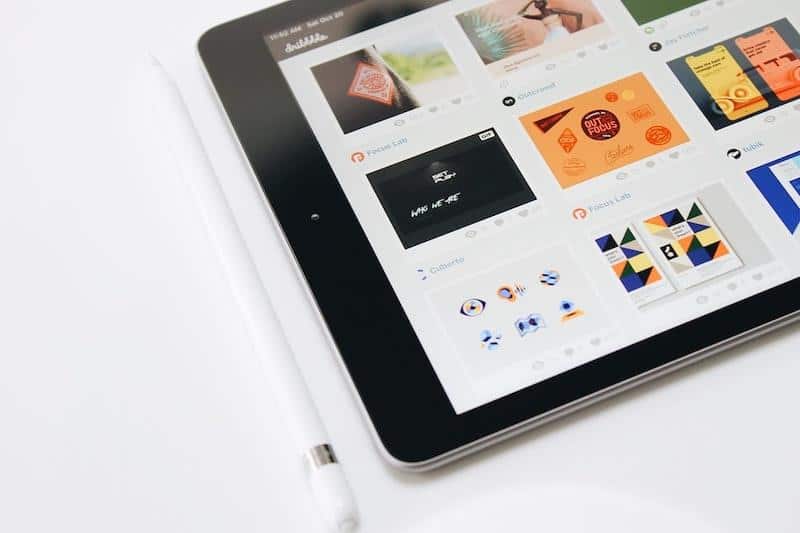 You can pitch your design skills to small business owners or individuals to start your own business. Graphic designers can also join freelance websites like Flexjobs to find relevant work.
If you have prior knowledge in this field, getting new clients should be relatively easy. However, learning the basics of graphic design from scratch is also simple, with a lot of online courses and tutorials available.
First, you leverage graphic design software like Adobe InDesign or Photoshop to learn the foundation of graphic design.
Alternatively, you can use other user-friendly online tools like Visme to hone your graphic design skills further.
Below amazing graphic design courses that will give you a great head start in this career:
Fundamentals of Graphic Design (Coursera)
Graphic Design Fundamentals: Getting Started (Creative Live)
You can start with Adobe Photoshop as part of Creative Cloud. Try Adobe Photoshop
Website Development
There are more than 4 billion internet users in the world . 6 out of 10 small businesses have a website. Front-end web development is a great skill to cater to the surging demand for launching new websites.

You can start by developing websites for your friends and family to polish your skills. While there are a lot of we that can help small businesses create their own websites, developers are needed for more custom jobs (and new businesses are always looking for efficient coders at cost-effective prices).
You can kickstart your career by offering competitive prices for your services and then slowly transform it into a more attractive business plan by solidifying your portfolio.
Every web developer must have basic coding skills in computer languages like HTML, CSS, and JavaScript. There are several free or cheap online courses including the Web Developer Bootcamp on Udemy, and Codecademy that can help you learn to code and get started with web development.
Instagram Influencer
With the rise of social media paltforms like Instagram,twitter,facebook,telegram etc consumers are increasingly turning to niche influencers to get product advice.
The truth is, most influencers have trouble actually influencing purchase decisions. Sure, we like to look at their photos, but will we actually buy a product that they're recommending? Most often, no.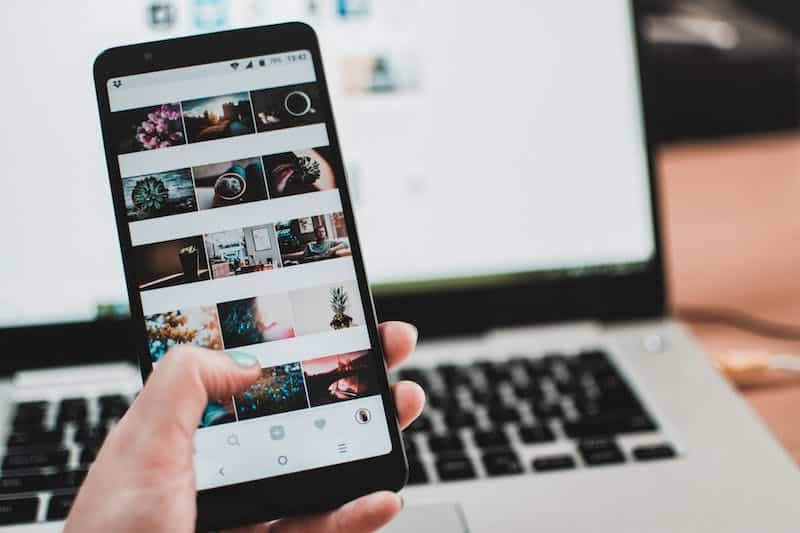 That's why you should cater to a small, loyal and interactive community. It's not all about follower counts, but engagement.
First, you have to choose your niche. It can be anything from tech gadgets ,marketing to beauty or fitness. Make sure to select a niche you're passionate about and can create a lot of content for.
Next, you have to build a solid Instagram following by posting interesting content and discuss helpful things that are relevant to your target audience.
There are a lot of social media marketing tools to help you schedule posts in advance so that you're not always struggling to come up with new posts. Once you build a strong following, you can get paid to promote products via sponsored content.
It requires a lot of networking and not everyone can make it to be an influencer.
But people with the right marketing skills, know-how, (and thousands of Instagram followers) can earn anything from $500 to $6,000 per post. And if it can publish a few sponsored posts a week, it can be a profitable business.
You can check out my full guide to making money on Instagram for more tips.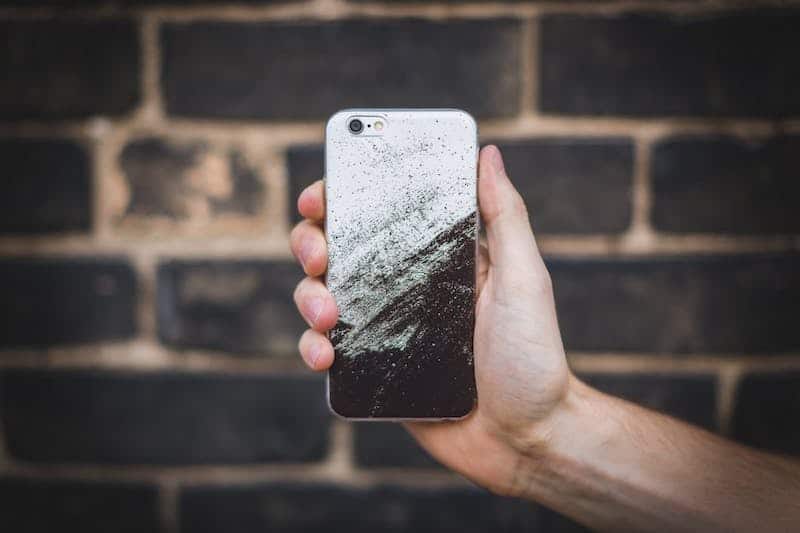 Phone Case Business
There are more than 2.5 billion smartphone users in the world, and the number is increasing every day.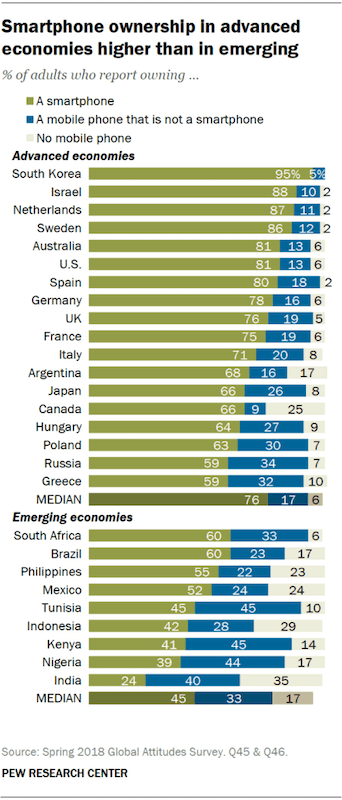 Since almost everyone has a smartphone, smartphone cases are one of the top-selling mobile phone accessories. As a result, some mobile case sellers can rake in 6 or 7-figure incomes by selling a high volume of cases.
The competition is very high , but you can get started by testing out your phone case ideas with Amazon FBA before creating a full-fledged website.
When designing your cases, go for unique designs that cater to a specific audience.
You need to be creative ,innovative to have a collection of smartphone cases that your audience would purchase. One popular Etsy store managed to sell handmade cases worth $60,000 in its first year.
The idea is to find your own unique niche.
You can easily list your new products on ecommerce giants like Amazon and eBay. Once you start making some money, you should then look into launching your own ecommerce website on a platform like Shopify to improve your profit margins.
Affiliate Marketing
Affiliate marketing been a talk of the town in the marketing arena for quite some time.
When someone asks how to make passive money online, a lot of people automatically envision affiliate marketing. Brands that want to sell products online create new affiliate programs and allow affiliates (publishers and bloggers) to promote their products and earn commissions.
According to one blog income report study, bloggers making between $7,500 — $25k per month make 38% of their income from affiliate marketing.
Since pretty much everyone has a smartphone, smartphone cases are one of the top-selling mobile phone accessories. As a result, some mobile case sellers can rake in 6 or 7-figure incomes by selling a high volume of cases.
In simple terms, affiliate marketing is a business model where bloggers and influencers recommend services or products they like or find useful and earn a percentage of profit for each sale that follows. It is a great form of passive income and the perfect business model for bloggers.
Here's a summary of how affiliate marketing works: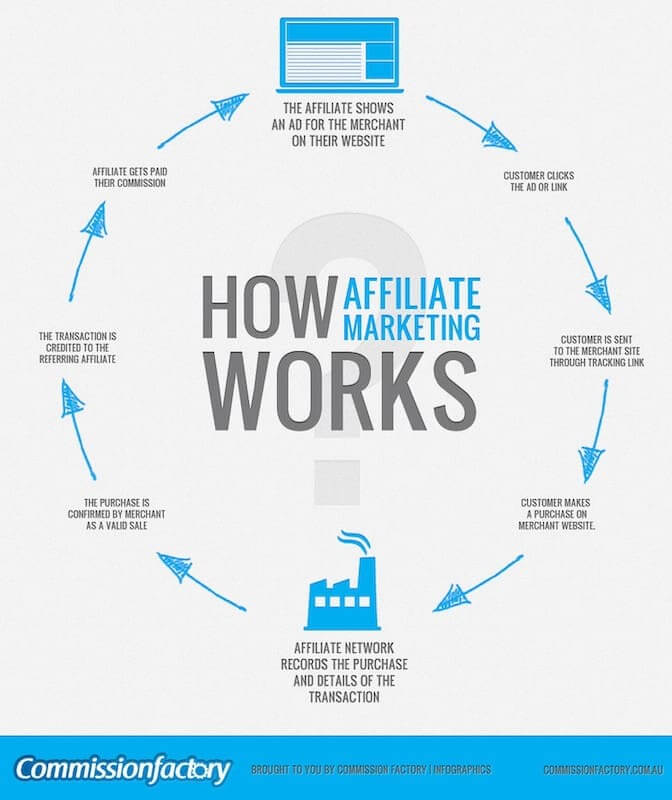 To get started, register with networks like ShareASale, Awin, Rakuten, Clickbank, or Skimlinks to start making money from the type of content being published on the website. The income will gradually grow along with the growth of your website – Sky's the limit here.
Social Media Manager
Billions of people are on social media – there are jobs and businesses to be sprung from Facebook, Instagram, and Twitter. If you have experience with social media marketing and know how the ad network operates, you can start a consulting business on social media.
Everyone from small businesses to large corporations need help getting their message out there on social media.
There are a ton of different responsiblities as a social media manager:
Create content for brands.
Create custom ad campaigns and track ROI.
Integrate content with other email marketing and PPC strategies.
Analyze results, A/B test, and tweak campaigns.
You have to stay ahead of trends in this constantly-changing landscape too. For example, TikTok is currently a huge opportunity for major brands, and many don't even have an account or post regularly.
If you're looking for a job to gain social media experience, Flexjobs, CareerBuilder, and Fiverr offer a lot of opportunities related to social media management.
Once you have the necessary skillset, you can start your own consulting business and charge either a performance fee or monthly retainer for your work.
business ideas for college students
Over the years, people have become more tasteful about how every little detail of their home's design. There is always the need for interior designers who can create visually-pleasing and functional living spaces.
Interior Designer
Plus, people that hire interior designers are usually on the upper end of the income bracket. And there are plenty of opportunities to get into corporate interior design, where large businesses pay you to design hotel lobbies, corporate offices, resorts, and more.
To start, check out some ideas on Pinterest, which offers plenty of interior design ideas to take inspiration from. Then use your own personal and professional network to build a business around your design skills. A portfolio is huge here, so you may also consider taking free work and working with home developers and realtors to stage homes before making the leap into full-time entrepreneurship.
Here is the list of free interior design courses you can opt for to get a formal education.
Wedding Photographer
The price of wedding photography has increased over the years. Professional wedding photographers can charge anywhere from $2,500 – $10,000+ for each photoshoot.
First, you can build your clientele by searching online and registering on aggregators, including MyWed, to gain clients. You can create business accounts and reach out to potential clients through Facebook and Instagram.
To hone your skills, you can either take online wedding photography classes or learn by reading this detailed guide. Here is what you can find as the list of wedding photography gear you need to s/tart your wedding photography business.
This business idea also requires a solid portfolio. So choose a website theme for photographers and work on building your inbound traffic and word of mouth marketing.
money making ideas for college students
WordPress is the go-to platform for small businesses and budding bloggers to start a website of their own. If you are well-versed in setting up WordPress websites, use this skill to build a business.
WordPress Website Consultant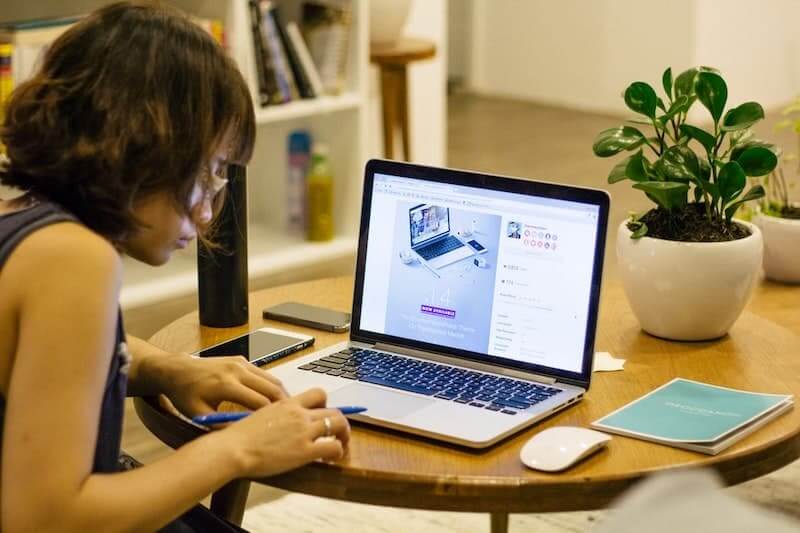 Apart from WordPress consulting, you can also offer digital marketing services to your clients to diversify your revenue streams.
If you build a successful business as a WordPress website consultant, you can even transform your business into a full-fledged digital marketing agency.
You can learn more about building websites on WordPress through courses on Skillshare.
There are some businesses where if you have some bugdets you can start these businesses to make a transactional money by some investments.
IOT ( Internet of Things) industry
Internet of things implies each item which is being utilized by individuals has web network to send and get information. Mckinsey gauges that IOT will have expected development and effect at $ 11.1 Trillion on the economy by 2025.
The best example of it is Ola or Uber or Lyft taxi administration where you get a moment ride. Climate control systems and TV are being associated with the web to outdo administrations through web progression in the innovative area which makes this business extremely worthwhile.
This is one of the new business thoughts that has an astounding future for 2025 or 2030
3D printing
This is the one of the best business ideas to start in india in 20201 .3D printing business is one of the most profitable businesses these days. Over the most recent couple of years, this is getting acclaimed all around the world.
Initially , the 3D printers were expensive and not reasonable for a few businessmen, but rather as time passed, the costs progressively declined and this printer is much in reach now.
The cost of a 3D printer relies on the particulars and highlights you require. All you require is to buy a hardware set for the shop and start your new venture.
Amazon FBA Program
Amazon FBA just signifies "Fulfilled By Amazon." Here you basically purchase modest items from wholesalers and sell them at greater costs on Amazon. You should manage white named items, and give them to Amazon satisfaction focuses where they handle the transportation, bundling, and backing for the items.
In the event that you can manage the stock administration and have a bookkeeper to keep up your Amazon Seller Account while refreshing it consistently, this is an exceptionally worthwhile wellspring of automated revenue.
Creating And Selling Digital Products
This is the area where you produce and offer your digital products to a group of people. Generally data products or self-help apps or content . You make the digital item and offer it to the client for a one-time charge, typically.
It can be an eBook; here you simply need to compose your book and sell it. You can similarly sell online courses, or make and sell many games, or even portable applications. There's no restriction to what you can offer with regards to digital products. Simply pick a region you major in and will work there.
Renewable and Clean Energy supplies
The world is progressing at a lot quicker speed than anticipated, yet we are confronting a great deal of issues with respect to energy. Some Asian nations are as yet depending intensely on conventional wellsprings of energy like coal power plants, petroleum products, atomic or hydro energy which are created from the sources that should be risky to our current circumstance.
Simultaneously, sustainable power sources have been stressed a great deal through which the climate can be saved. It is an extraordinary open door for the individuals who need to begin a business on a medium scale. It is one of the green and clean business ideas that you can jump upon. This is a standout amongst other Future Business Ideas in India.
Mobile wallet payment solution
With the sharp headways in technology improvement in the mobile world, individuals currently favor not to manage money exchanges, regardless of whether it is payments, shopping or move of assets. They are searching for a mobile payment solution that is dependable, safe and made sure about.
This business idea would require a fair measure of startup capital. Hacking and cybercrime and extortion are the couple of things which make this undertaking profoundly dangerous.
Warehouse or Inventory Management for E-Commerce
E-Commerce has been developing at a considerable pace. The warehouse management organization would provide fulfillment for e-commerce stores and this one is good Future Business Ideas For 2022 In India
Instead of an e-commerce store, setting up their circulation channels, purchasing fleet trucks, and warehouses to store the products, this organization would do it just for them. This is a larger scale business idea, yet in addition can possibly make a ton of money.
Indian Culture E-Commerce Niche Store
So many people around the globe appreciate the culture of India. They like to decorate their homes with the authentic workmanship pieces reflecting Indian culture. By setting up an e-commerce store that specifically sells these social items, you can begin an innovative profitable venture. I think its really a good Future Business Ideas For 2022 in India.
Biometric Sensor Company
Biometric sensors are the sensors that can recognize your retina or your fingerprints to specifically identify a person. The rising need for higher security measures and backing from the Indian government for the Internet of Things (IoT) Technology, it would not be long until people are putting biometric sensors in everything.
This creates an excellent business idea to sell the sensors to companies that introduce them into products or services. This business can be profoundly rewarding as global companies would likely work with you as they use biometric sensors more and that's only the tip of the iceberg. One of the great futuristic business in India that has already kicked-in at this point.
Bookkeeping
When it comes to business, bookkeeping and accounting are absolute necessities. For many entrepreneurs, money management is the very most noticeably awful piece of their business because they simply don't have a clue how to do this.
This means that new companies and independent ventures are consistently keeping watch for anyone who is finance-keen. Whether you are a licensed CPA or simply a smartbooks wizard at accounting and bookkeeping, you may very well meet all requirements to help your fellow entrepreneurs get their books all together.
Bookkeeping as a business has a net revenue of about 19.8% and is a longstanding profitable business for entrepreneurs. As a bookkeeper for the firm, you can attend to the invoices and finance, compile expenses reports, and other stuff.
DDOS cyber-attack prevention security company
DDOS attacks (where hackers create such a great amount of traffic to a website that it crashes the server) are becoming a typical threat to some businesses in India. With quick internet speed the nation over, more and more hackers will target companies.
You can create an organization that can identify the assault and prevents them from happening in any case. Albeit some organizations are already doing this, there is a great deal of space to make money in this area. It is a medium cost business as you would be requiring server space just as software and coding needed to be done to create a DDOS security company.
Skyscraper greenhouses
Land is consistently becoming a scarce resource as the populace is increasing step by step. This is creating a problem of giving fresh vegetables and organic products to communities in a savvy and sustainable manner.
By building greenhouses that are vertical like a skyscraper with multiple levels of different leafy foods, one can develop more yields. This is a significant expense idea as the structure must be enabled with sensors to screen temperature, mugginess, etc. to develop the perfect yield. It is one of the trending new business ideas now.